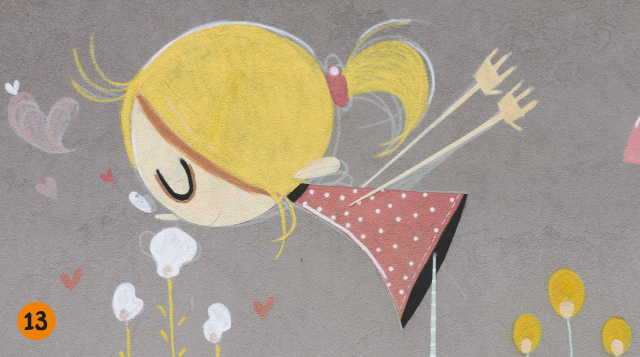 Obra – PT
13 – Título: Sem Título
Quando questionadas sobre o que gostariam de ver pintado na escola, as crianças do projeto TIMM disseram que gostariam de mudar a cor das paredes. A Escola Básica de Ponte de Sor que é conhecida por muitos como a Escola das Cores, tem as suas paredes exteriores pintadas de cinzento escuro. O artista tentou através de várias pinturas dar uma nova vida e cor a essas mesmas paredes.
Obra – ENG
13 – Title: Sem Título
When asked what they would like to see painted at school, the children of the TIMM project said they would like to change the color of the walls. The Basic School of Ponte de Sor, which is known by many as the School of Colors, has its exterior walls painted in dark gray. The artist tried through several paintings to give a new life and color to these same walls.
---
João Rodrigues
Bio – PT
João Rodrigues, também conhecido como Toinjoints, é ilustrador e encontra no desenho a melhor forma de se exprimir, seja qual for o seu estado de espírito.
A sua principal fonte de inspiração é o amor e a busca da pessoa especial que dará sentido à vida.
A sua obra é muito mais do que simples desenhos infantis. Segundo o artista, há muito mais para além da sua aparência principal.
Bio – ENG
João Rodrigues, also known as Toinjoints, is an illustrator and finds in drawing the best way to express himself, whatever his mood.
His main source of inspiration is the love and search for the special person who will give meaning to life.
His work is much more than simple children's drawings. According to the artist, there is much more than its main appearance.