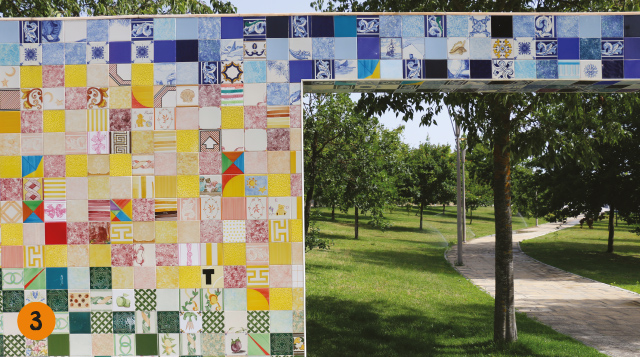 Obra – PT
3 – Título: Sem título
Esta parede e muro são revestidos por azulejos de diversas cores e diversos motivos. Existe uma gradação de cores, desde os tons mais quentes aos tons mais frios.
Acompanham uma série de patamares que descem até à zona ribeirinha.
Obra – ENG
3 – Title: Sem título
This wall is covered with tiles of different colors and themes. There is a gradation of colors, from the warmest tones to the coolest tones.
They accompany a series of levels that descend to the riverside area.
---
Leonel Moura
Bio – PT
Leonel Moura nasceu em Lisboa, em 1948.
Para além da pintura e escultura, desenvolve projetos de arquitetura, escreve romances e tem publicado vários artigos de opinião.
Um dos seus mais recentes projetos alia a robótica a arte, com a produção do Manifesto da Arte Simbiótica e a construção de robots que pintam e desenham de forma aleatória através de mecanismos sensoriais.
As suas exposições têm atravessado importantes cidades a nível internacional.
Bio – ENG
Leonel Moura was born in Lisbon, in 1948.
Along with painting and sculpture, he develops some architecture projects, writtes novels and have been publishing several opinion articles.
One of its most recent projects joins robotics and art, producing the Symbiotic Art Manifest and the construction of robots that paint and draw in a random way through sensorial mechanisms.
He had exhibitions in several important cities around the world.