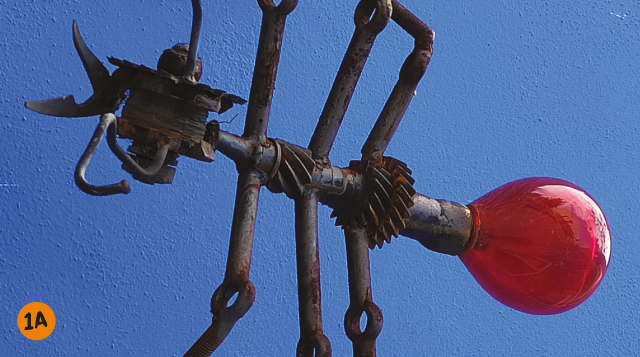 Obra – PT
1A – Título: Formiga
Em 2010, tem a sua exposição "A Espiral dos Sentidos. Ciclo e re-ciclo" no Centrum Sete Sóis Sete Luas de Ponte de Sor, onde alguns alunos da Escola Secundária têm a oportunidade de trabalhar com ele num laboratório de criatividade.
Esta obra é o resultado desse mesmo laboratório, em que mais uma vez se percebe o tipo de matéria prima a que o escultor dá um novo uso.
Obra – ENG
1A – Title: Formiga
In 2010, his exhibition "A Espiral dos Sentidos. Cycle and re-cycle " was at the Centrum Sete Sóis Sete Luas de Ponte de Sor, where some students from the Secondary School had the opportunity to work with him in a workshop.
This work is the result of that same workshop, in which, once again, the type of raw material to which the sculptor gives new use is perceived.
---
César Molina
Bio – PT
César Molina "Culatas" nasceu a 16 de janeiro de 1976 em Churriana de la Veja (Granada), tendo iniciado a sua carreira artística em 1998. Autodidata, nas suas obras utiliza metal como matéria-prima, tendo como objetivo interpretar a realidade numa maneira lúdica e criativa, sem esquecer a influência do social em cada uma das suas obras.
Participou em inúmeras exposições e tem diversas obras instaladas em espaços públicos na província de Granada. A sua linha de trabalho relaciona-se com a proteção do ambiente e as consequências que as alterações climáticas causam em todo o mundo. A sua matéria prima são
resíduos de sucata, ferros-velhos e outros "cemitérios" de consumo, que lhe permitem desenvolver esculturas únicas. Com este seu trabalho, consegue dar uma nova vida e um novo propósito a estes produtos de uso diário, que de outra forma passariam despercebidos pela maioria das pessoas.
Para ele, estas suas obras são um ato solidário e comprometido com a natureza e a sociedade, contribuindo para um desenvolvimento sustentável e equitativo para a humanidade.
César Molina faleceu a 6 de janeiro de 2014, deixando um grande legado e uma importante mensagem: a proteção do meio ambiente está nas nossas mãos e depende de cada um de nós.
Bio – ENG
César Molina "Culatas" was born on January 16, 1976, at Churriana de la Veja (Granada), beginning his artistic career in 1998. Self-taught, in his works he uses metal as raw material, aiming to interpret reality in a playful and creative way, without forgetting the social influence in each of his works.
Took part of several exhibitions and many of his artpieces are installed in public spaces in Granada. His work is related to the environment protection and the consequences of climate changes all over the world.
Its raw materials are scrap waste, scrap metal and other consumption "cemeteries", which allow him to develop unique sculptures. With this work, he can give another life and purpose to those products of daily use that in other way would be unnoticed by most people.
For him, these works are an act of solidarity, committed to nature and society, contributing to sustainable and equitable development for humanity.
César Molina passed away on January 6, 2014, leaving a great legacy and an important message: the protection of the environment is in our hands and depends on each one of us.